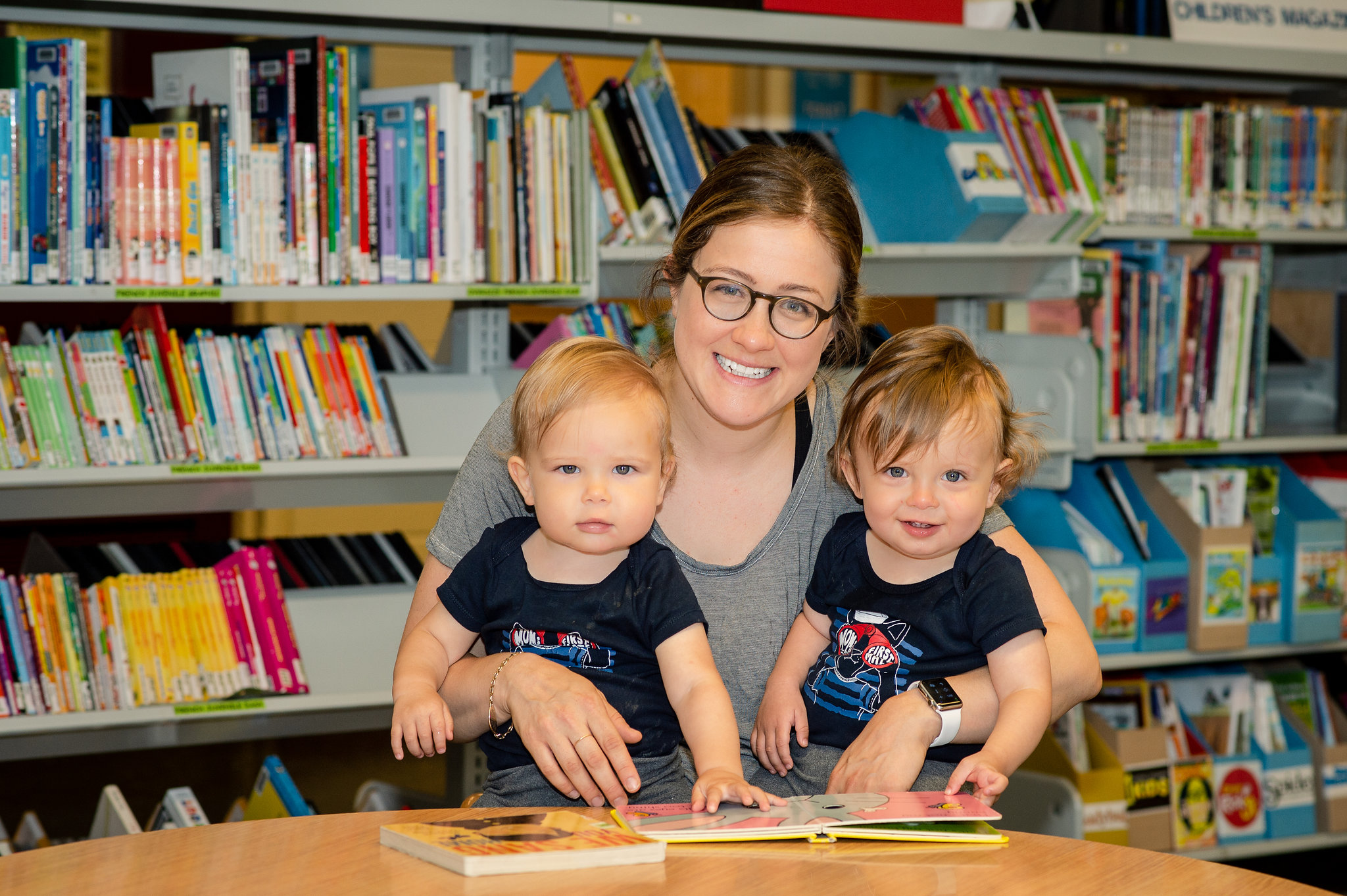 VPL works with community partners to deliver the Mother Goose program, where parents are supported in nurturing language development through rhymes, songs and stories. These sessions take place outside of the library's walls but provide a vital connection to children's librarians for families that need it most.
As a mother of young twin boys, Lisa greatly appreciates the extra hand the staff provide for her busy sons. It's very difficult to get out of the house with Ewan and Ben, but coming to Mother Goose gave her the opportunity to do just that.
When she started bringing the boys to this program, Lisa was so grateful that her local librarian, Nathalie, was always willing to jump in and help her to get set-up to enjoy a storytime. Staff go out of their way to make participation possible for her family.
"Everybody is so friendly there, and they're all really happy to be at the library. The staff really understand the difficulties of being a parent," says Lisa. "Going to Mother Goose was always my best day – I looked forward to going all week."
What's more, her children enjoyed the songs they would learn, and Lisa would sing them at home as well; many of these songs have become staples in their daily routines. Lisa says that before Mother Goose, she didn't know any songs, but now they sing just for fun. She even sings to Ewan and Ben when they're upset, as she finds that it helps to calm them down.
Lisa also enjoys the sense of community that Mother Goose creates, and the friends that she has made there.
VPL's children's programs definitely help foster a love of reading for Vancouver's youngest citizens – shortly after Mother Goose ended, Lisa got Ben and Ewan their very own library cards. These two boys have been set on the path to something amazing. They own a card that will connect them to a world of possibilities. They have a familiar and comfortable place they can visit. All for free.
Now, the boys are almost two years old and they primarily visit the Kensington branch. But Lisa still feels connected to her community at Britannia so they go to visit Nathalie at the Britannia branch. Lisa says it means so much to her to have Nathalie watch her kids grow and to feel that connection with her local librarian.
If there is one thing about Vancouver Public Library that Lisa would like everyone to know, it's that "There's more than just books there – there's people who can help give you a great experience with your babies, and they really love those little guys. It's a nice, safe, happy place."
Whenever Lisa tells the boys "It's time to go to the library!" they respond by giving her the biggest grins.