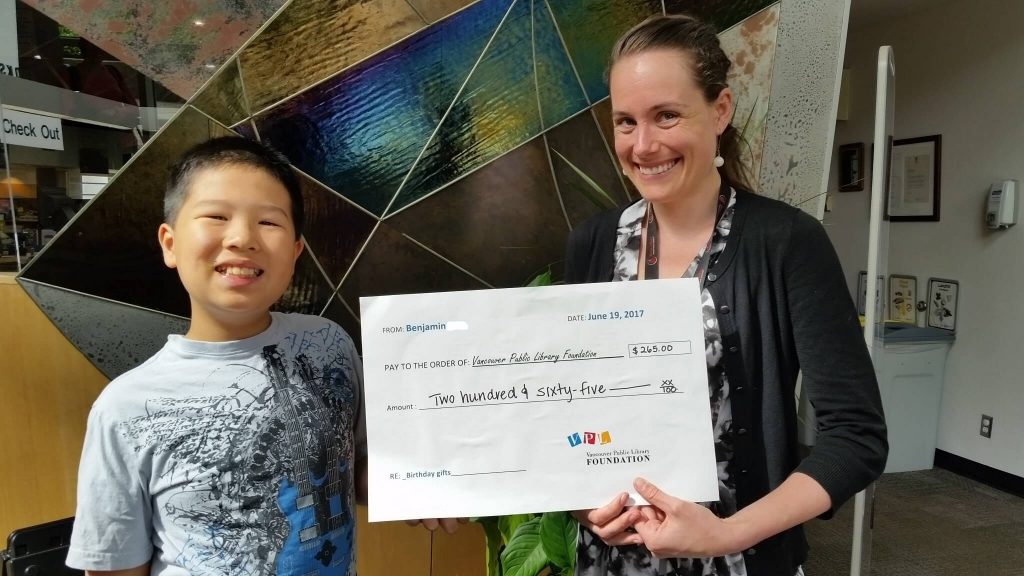 Thank you for your interest in planning a fundraising event or activity in support of your Library! Third party fundraising are events and activities which are planned and executed by an individual or organization for the purpose of raising funds for the Vancouver Public Library Foundation.
Some ideas for your third party fundraiser:
Peer-to-peer (Friends-Asking-Friends)
Used book sale
Paint night
Write-a-thon/knit-a-thon/walk-a-thon etc.
Book club/reading challenge
Birthday party (or gifts in lieu)
Golf tournament
No matter what type or size of event you choose to organize, every gift makes a difference to your Library and its programs, collections, services and spaces. The funds you raise can be designated to the Library's area of greatest need, or to a priority area of your choice.
We would love to hear what you are planning before your events begins, and to help ensure your amazing idea is successful!
Contact:
Sarah Bourgeois
604-331-3786
sarah.bourgeois@vpl.ca
Please review our application form, partnership agreement, and third party fundraising guidelines:
If you're ready to get started, please submit your completed application to Sarah Bourgeois.
We will provide official tax receipts for all cash donations $10 and above (donor's full name and address are required). For any online donations, donors will receive an email tax receipt when they make their gift.
Book Club Fundraiser
We have a special 3rd party fundraising initiative on now! Rally the support of your book club to raise $1,500 or more before September 30th and receive copies of the work of a local author for each member of your book club (maximum 15) and the opportunity to meet virtually with the author for an author-led book club discussion!