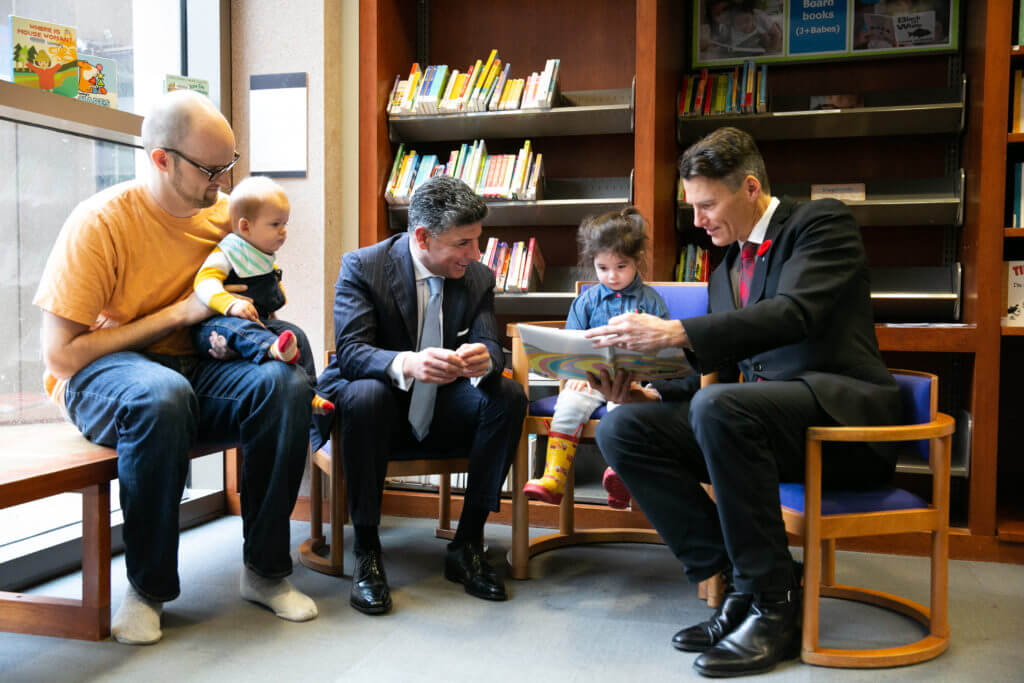 On October 29th, The Dilawri Foundation, which has donated tens of millions of dollars to Canadian health and children's charities over the past 20 years, announced the largest ever donation to a public library in Canada.
Speaking at the downtown Central Vancouver Public Library with Vancouver Mayor Gregor Robertson at his side, and surrounded by neighborhood families and caregivers, Ajay Dilawri committed $5 million to the Vancouver Public Library Foundation's Storeys That Transform Campaign. The money will be used to reimagine over 3,000 square feet, enabling the library to create new and enhanced program spaces, services and resources for the Central library's No. 1 customers – children and families
"The Dilawri Foundation prioritizes the needs of the children in communities across Canada with programs that address their health and emotional well-being," said Ajay Dilawri, one of three founders of The Dilawri Foundation along with his brothers Kap and Tony. "Parents and caregivers of young children who are new to Vancouver, and those who have lived here for years, gravitate to the Vancouver Public Library for learning, support, a sense of belonging, and community connection. Our goal is to help build a library of the future to address these needs for generations to come."
The Children's Library is the Central library's most popular area, with over 1,100 programs operating for children throughout the year. However, the lack of space has impacted the development and creation of new programming to fill increasing demand. Children age five to nine are the library's biggest users, borrowing an average of 70 items per year. Almost 30,000 children under the age of 10 borrowed from the Vancouver Public Library last year.
"Every child in Vancouver should be able to enjoy a rich and rewarding learning experience with their families and caregivers at their public library, regardless of age, ability, language or cultural background," said Vancouver Mayor Gregor Robertson. "I'd like to give a huge thanks to the Dilawri family. This donation from The Dilawri Foundation will ensure the Vancouver Public Library continues to be a central hub for learning and community building at both a local and national level. In recognition of this extraordinary contribution we are pleased to announce the two plazas outside Central library, facing Robson and Georgia streets, will be named Dilawri Square." 
Construction is estimated to begin in 2020 and will add innovative learning spaces with new sensory learning elements for young children, including those with autism and/or unique learning needs.
"This new space will inspire learning and discovery among the growing numbers of children and families who are calling the area in and around downtown Vancouver home. We have seen dramatic demographic changes in our neighbourhoods in the last twenty years and changes in how people use libraries. With so many families living in smaller spaces, the Central Library is a favourite community gathering space and the number of children attending programs here has continued to increase," said Christina de Castell, Chief Librarian, Vancouver Public Library. "The Dilawri Foundation donation will help us better serve our youngest patrons with innovative early learning programs and enriched learning experiences."
Once completed, the Central library will include new activity zones for toddlers, preschoolers and school-aged kids, and new resources to further expand the library's early childhood education programs. In addition, the renovated space will offer support programs for parents, grandparents and caregivers and improved resources for the growing number of library users.
To learn more about the Children's Library expansion and the Storeys that Transform campaign, please contact Ann Byczko at 604-331-4041 or ann.byczko@vplf.ca.