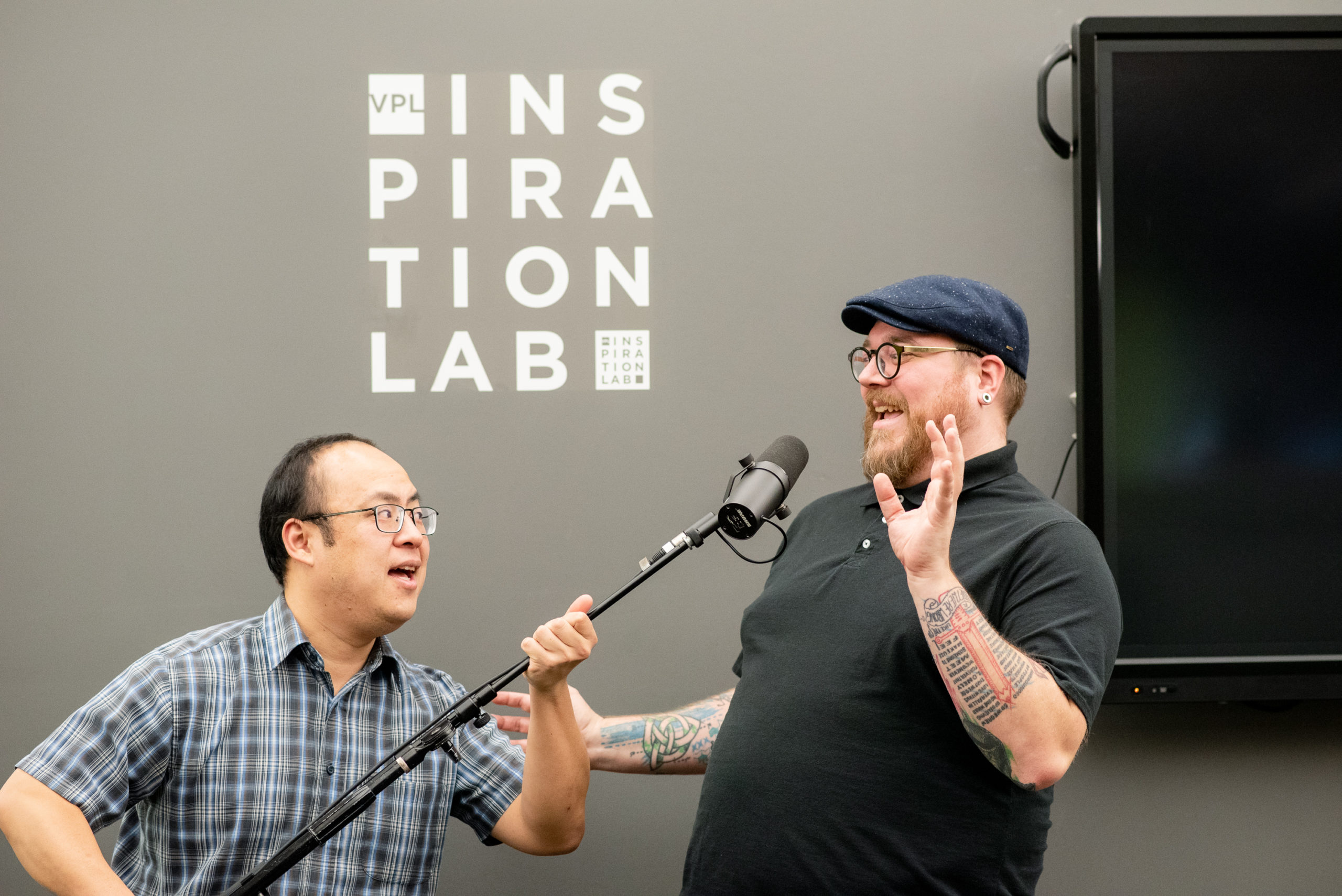 One of the many gems of the Central Library in downtown Vancouver is the Inspiration Lab. Here, professional studio spaces, and recording and editing equipment are available to everyone in our community to make their creative visions come to life. All for free.
On some days, you'll see Jeff and Daniel recording their podcast The Fear of Science in the Inspiration Lab.
The Inspiration Lab has created a great connection between Jeff, Daniel, the Library and the wider community. Jeff had a vision of starting a podcast that would pair artists and comedians to discuss science topics that were typically hard to understand. Daniel, meanwhile was someone who worked in the comedy sphere, and loved playing the role of a storyteller, but he also wanted embark on an engaging project that allowed him to learn.
Having their vision was one thing – but it is quite another to get it off the ground. Jeff noted that "One of the main barriers for what we are doing is access to the equipment…There [aren't] many options that come up when you Google 'free studios in Vancouver'". Luckily, Jeff's co-workers had let him know about the the Inspiration Lab.
VPL staff ensured that before each session that all their equipment was set up and ready to go, and made themselves available for any sort of technical assistance that was needed.


Now celebrating one year since its successful launch, the Library has nurtured and grown the connections that The Fear of Science has in the community, promoting them on social media so their work can reach a broader audience. Additionally, they were invited to participate in the first-ever DOXA podcast festival at VPL this fall held in the new Montalbano Family Theatre.
Here, they were able to host a live taping of their podcast in front of a live audience, and it was a powerful experience. They shared:
We made so many connections…You work in a void in podcast, you see downloads but not the people listening. It was wonderful to see who our listeners are and have the chance to connect with them.
Our supporters ensure that Library services like the Inspiration Lab can allow creatives like Jeff and Daniel to truly thrive and share their passion with the community.