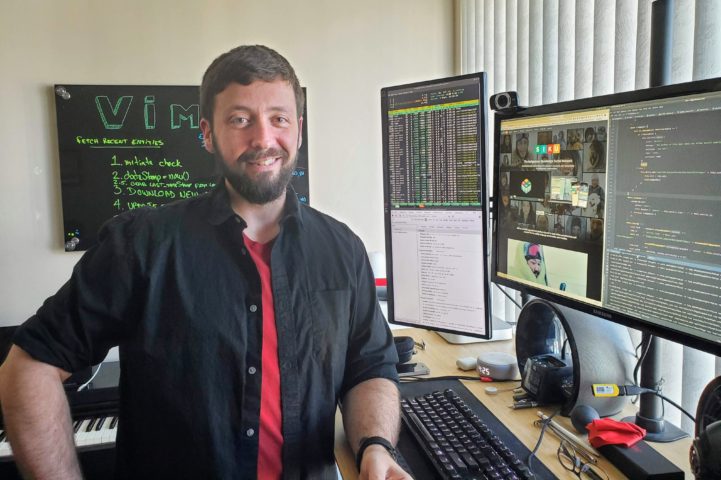 When Mat decided to pivot to a new career at the age of 35, his instinct wasn't to go back to university or college. It was to go to the library.
Even though his existing Apple consultancy was booming, Mat needed a change. He'd already been in business for more than 20 years, having started working with his father at the age of 13.
He'd built a base of 3,000 customers in his hometown of Montreal, and a 6-week line-up of people clamoring for his services. Despite success, he yearned for something new.
"I was bored of it," says Mat. "I have an entrepreneurial spirit."
That's when he and his friend Phil decided to teach themselves web programming. Initially they started by getting together in Montreal coffee shops and watching instructional videos online. Then Phil made the leap to move to Vancouver, and Mat, seeing the potential for a new life in front of him, followed his friend to out West.
That's when the Vancouver Public Library entered the picture. The two friends stumbled upon the uncommon riches available for lifelong learners and budding entrepreneurs.
"What struck me first was the beauty and architecture of library. Then all the services really impressed me – the green rooms, the recording studios," says Mat. "I thought, 'Hey, I could come here to play the piano.'"
The big a-ha moment was realizing a library card came with a free Lynda.com subscription. Mat and his friend hit the jackpot – spending hours on end at the library learning front end development, Java, PHP, Illustrator, Photoshop and Google Analytics.
This set them on the path to launching Air Code Design, a web development company which is now entering its fifth successful year. Mat and Phil's company has done projects for the Montreal-Trudeau International Airport, Hudson Bay Consortium and they are currently developing an Indigenous social network called SIKU.
With so many huge changes happening in the world and many people wondering how to proceed in the job market, Mat suggests people take a fresh look at what the library has to offer.
"People may think it's just a good place to get free internet and read some books, but times have changed. Technology has infiltrated the library – and the services it offers are drastically different." He says, "Take another look. Go multiple times. Explore."​
You can access thousands of online video courses by top experts in many fields including web design, business/marketing, software development, photography, video/music/audio editing, 3D animation, graphic design and more, for free with your Library card at vpl.ca/Lynda