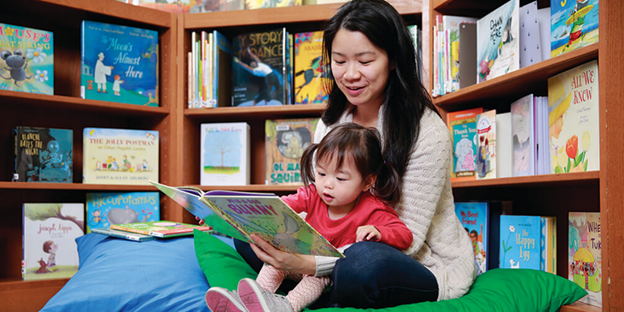 One of Lexi Wu's favourite songs is Zoom, Zoom, Zoom, We're Going to the Moon, and it's sure to bring a smile to her face. It's not just a song, though – it's an important way that Lexi's parents, Hannah and Steve, connect with their little one and help build important early literacy skills. When Lexi was born prematurely, her parents were referred to VPL's Mother Goose program, a special offering that supports parents to use rhymes, songs and stories, often in their first language, in nurturing language development. At the program, Hannah found a warm and supportive environment where she could meet with other moms with premature babies and engage with Lexi.
"Mother Goose was so helpful with developing my relationship with my daughter in the early months," says Hannah, a first-time mom who quickly discovered that music was soothing for Lexi.
"I really didn't know too many kid songs, and Mother Goose helped me with my repertoire and showed me the best way to use songs and rhymes in Lexi's daily routine." Hannah appreciates how the program has helped develop Lexi's language and comprehension skills, helping her to understand concepts such as up/down and slow/fast, simply from singing songs only a few times. Eventually, Lexi began doing the actions by herself and was soon prompting her mom and dad to sing along. "Every now and then, we would catch Lexi singing part of a song, and when we chimed in, she'd be all smiles," Hannah says. Since graduating from the program, Hannah and Lexi – now a happy and feisty two-year old – continue to visit the library and use the songs and rhymes they learned in the program at home. "Mother Goose has been a great way to introduce Lexi to songs, stories and books that we can borrow from the library to take home," says Hannah, who continues to work reading and singing into Lexi's daily routine.
"The library is a wonderful resource and something Lexi always looks forward to. Every time we drive by a library, she'll see the logo and shout out 'library!'"